7th EKC Quarterly Review Meeting: Focus on improvement and decentralization of cancer care in Ethiopia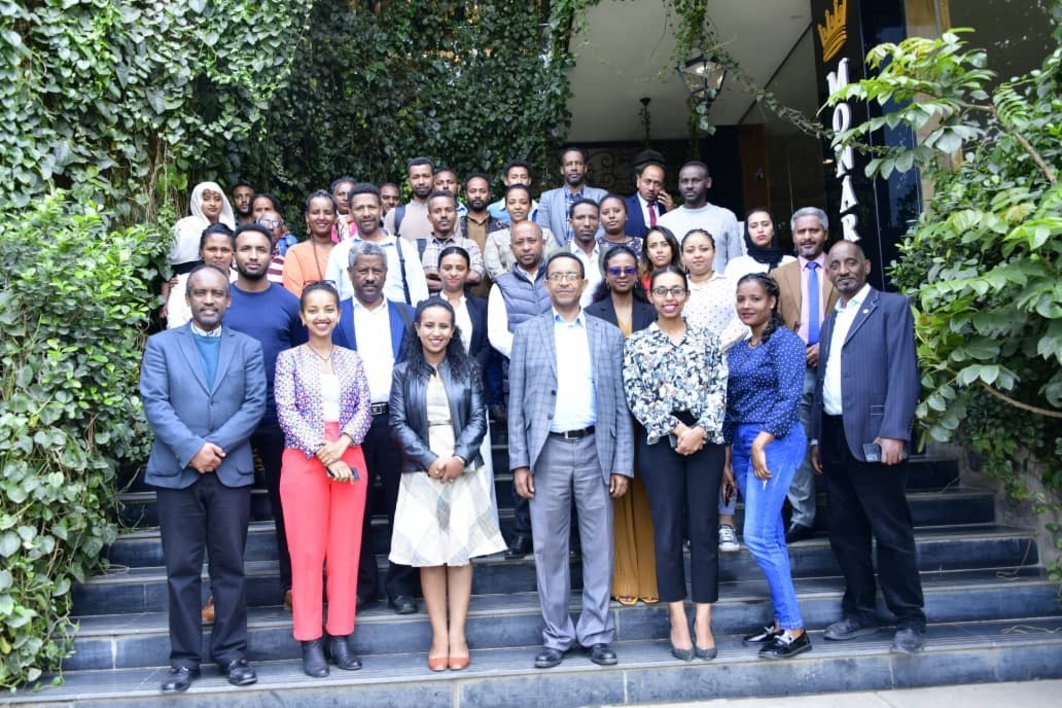 On August 18, 2023, the 7th EKC Quarterly Review Meeting gathered professionals, stakeholders, and experts in cancer care in Ethiopia and Germany at Park View in Addis Ababa. The event marked a next step in advancing cancer care in the country.
Among others, Dr. Kunuz A. from the Ethiopian Ministry of Health welcomed the more than 30 participants and emphasized the importance of improving and decentralizing cancer care in Ethiopia. Prof. Eva Kantelhardt, Principal Investigator of the project from Martin Luther University in Halle, Germany (MLU), joined virtually and acknowledged the impressive progress at the Churchill Center, a one-stop shop for cancer care in Addis Ababa. She also highlighted recent clinical breast screening training sessions for caregivers in remote areas in June.
Dr. Antje Henke, senior project manager from MLU, and Prof. Adamu Addissie from Addis Ababa University provided insights on steps to adapt the project based on recommendations from the interim evaluation.
The event ended with a lively discussion that fostered the exchange of knowledge and ideas. Professionals and stakeholders were given the opportunity to work more closely together, actively contributing to the realization of effective cancer care in Ethiopia.
Empowerment through CBE training in breast cancer care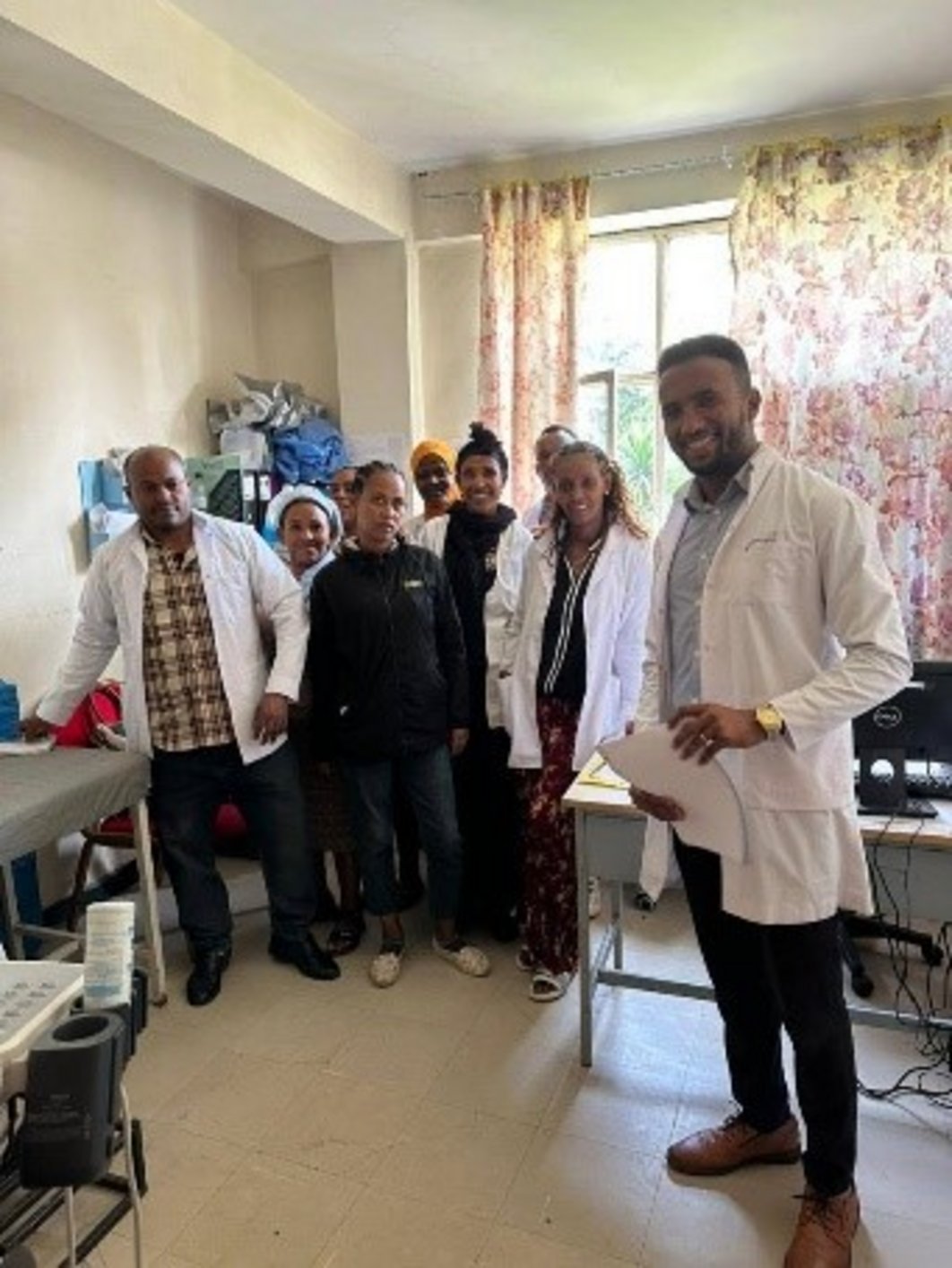 In June, 22 healthcare workers from rural Ethiopian health facilities participated in a hands-on clinical breast examination (CBE) training in Addis Ababa. This training took place from July 17-19, 2023, and was organized in cooperation between the Else Kroner Center (EKC) at Addis Ababa University and Martin Luther University Halle in Germany.
The 14 women and 8 men came from the rural regions of SNNPR and Oromia. Four representatives represented the EKC project.
The training provided not only theoretical knowledge but also emphasized practical skills in clinical breast examination. Dr. Alem, a participant in the program, said during the final discussion, "This training really helped us deepen our understanding of breast cancer and clinical examination methods." In the process, professionals gained valuable knowledge from experts such as surgeons, oncologists, epidemiologists, cancer researchers and oncology nurses - from modern methods of data collection to precise examination procedures.
The inclusion of video sessions reinforced breast examination skills in training. Participants had the opportunity to put theoretical concepts directly into practice.
In addition to training content, professionals received digital and physical resources. The provision of a soon-to-be-digitized CBE registration format underscored the drive for more efficient healthcare administration.
In a closing discussion, professionals shared ideas for implementing their new skills. The training marks an important step for breast cancer care in Ethiopia and sensitizes professionals to their role as breast cancer educators.
EKC Project Exchange: visiting physicians in dialogue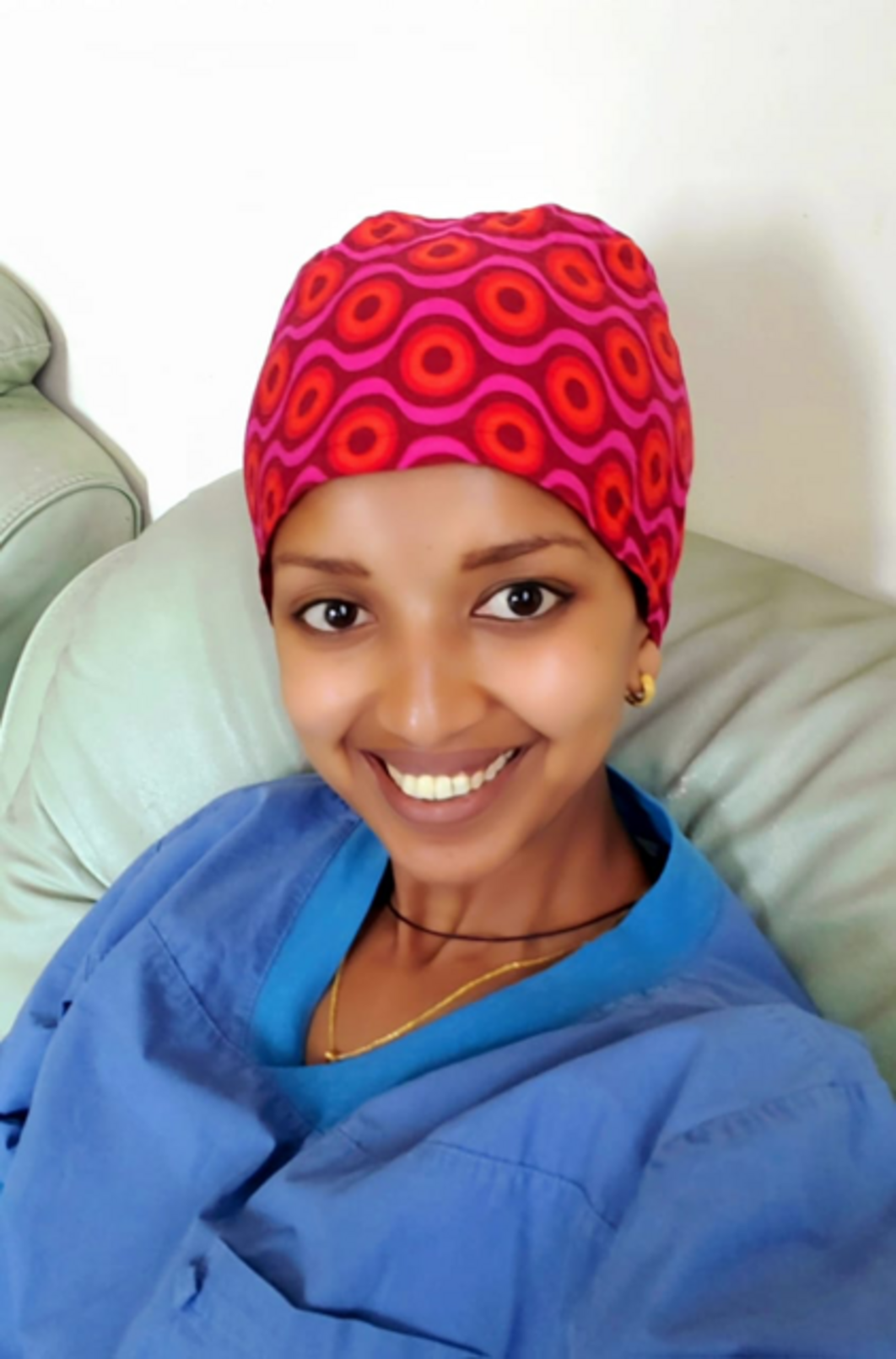 Dr. Veronica Afework is committed to making a lasting difference in the lives of women in Ethiopia through her involvement in breast surgery. As founder of the EKCC One Stop Breast Center in Addis Ababa, she is committed to providing rapid access to quality diagnosis and treatment for breast disease.
Dr. Afework's decision to study medicine and surgery grew out of her long-standing dream to help others and save lives. During her training at the leading referral hospital in Addis Ababa, she recognized the urgent need for better care for breast cancer patients. In the past, many women waited too long for surgery or already had advanced tumors that were inoperable.
In April 2022, Dr. Afework, in collaboration with EKC Project staff, opened the One Stop Breast Center in Addis Ababa. This center provides women with rapid and accurate diagnosis and effective access to treatment for breast problems. By bundling diagnostic and therapeutic services, the center enables early detection of breast cancer and timely high-quality treatment.
Dr. Afework also participates in the EKC exchange program, which gives her and her colleagues the opportunity to learn from breast cancer treatment best practices in developed countries. She places a high priority on learning the latest surgical techniques to provide the best possible care to patients. She is particularly passionate about sentinel lymph node surgery, which allows for precise procedures and minimizes complications.
She has ambitious plans for the future. She wants to develop innovative techniques for breast reconstruction to improve patients' overall well-being after surgery. In addition, the young doctor plans to establish more breast surgery fellowship programs and expand the One Stop Breast Clinic concept to other regions of Ethiopia.
Dr. Veronica Afework's commitment to improving women's lives through breast surgery is admirable. Her dedication and vision are helping to transform healthcare for women in Ethiopia and provide them with a better future.
EKC: ENTERING PROJECT PHASE 2
Replanning Retreat to Improve and Decentralize Cancer Care in Ethiopia

The Replanning Retreat to Improve and Decentralize Cancer Care in Ethiopia at the Haile Grand Hotel in Addis Ababa from July 5-7, 2023, was eagerly anticipated. Under the theme "Moving into the 2nd Project Phase: Strengthening and Consolidating Cancer Care 2023-2026," Ethiopian colleagues from the Else Kroener Cancer Care Project (EKC) gathered for a three-day meeting to discuss new strategies, consolidation of implemented projects, and next steps following the successful mid-term evaluation.
The Project Officer (Ethiopia), Prof. Adamu Addissie, is leading the retreat, working closely with his team of surgeons, physicians and public health specialists. Together, they are focused on defining and fleshing out the key steps for cancer care over the next 2.5 years.
During the retreat, project leaders from Germany, Prof. Eva Kantelhardt (PI) and Dr. Antje Henke (senior project manager) were also on hand via zoom to present the next work packages. The work packages include cancer awareness trainings in schools and community groups with the goal that the population in the capital will learn more about cancer and early symptoms and thus visit the Churchill Center, the project's one-stop clinic in Addis Ababa, more often, where they will receive free cancer screenings. Another work pact concerns organizational structures that will be adapted to improve the project's workflow.
Another important focus of the retreat was the improvement of training in the project's rural health centers. Through the intensive exchange and joint work, new ideas and approaches to solutions were developed.
German -Ethiopian ministerial interchange at the Churchill Center of the EKC project in Addis Ababa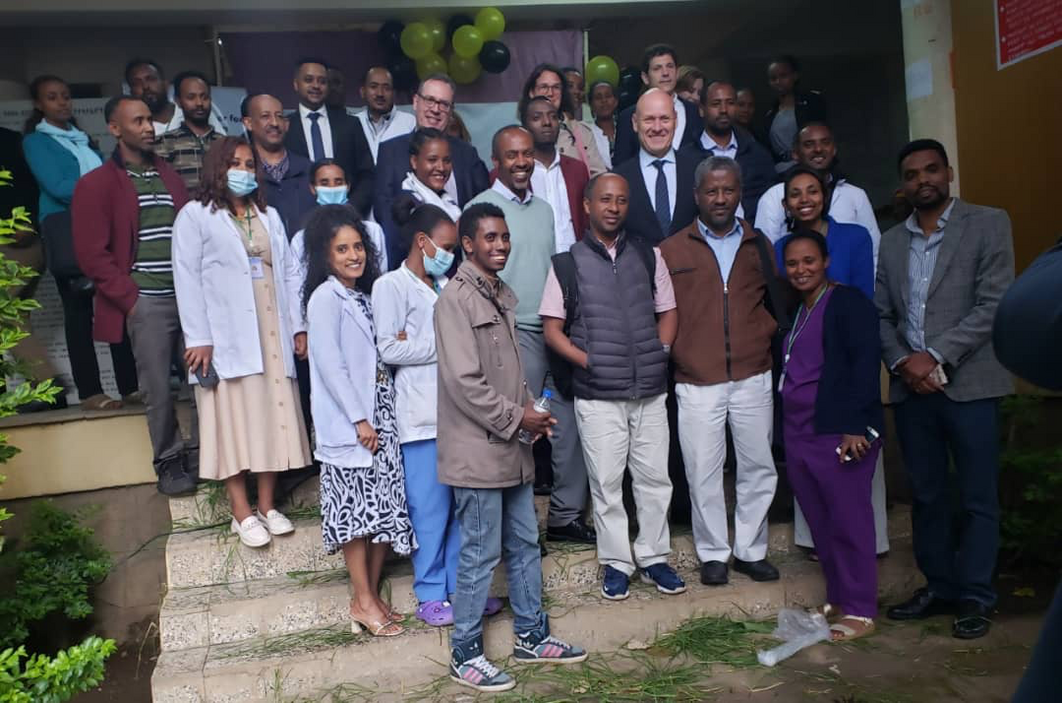 Dirk Meyer, from the German Federal Ministry for Economic Cooperation and Development (BMZ), visiting the Churchill Center, the stop-in clinic of the Else Kröner Cancer Center in Addis Ababa on June 27, 2023, with Anna Maria Pufal from GIZ- Clinic Partnerships and Mr. Assegid Samuel from the Ethiopian Ministry of Health.
Delegates held meetings with local physicians and health scientists and shared information about improved cancer diagnosis and treatment options at the Else Kröner Cancer Care Center. They also learnt about the multidisciplinary collaboration between health professionals at Tikur Anbessa Hospital and Churchill Health Center for Breast Surgery.
The Hospital Partnership Funding Program, implemented by GIZ, supports hospitals and health centers in Ethiopia to improve and decentralize oncology care. In Addis Ababa, the program enabled the establishment of a state-of-the-art cancer center where women with suspected and confirmed cases receive high-quality care.
EKC exchange program: visiting physicians in conversation
Dr. Binyam visiting the gynecology department at the University Hospital in Halle an der Saale, Germany.
"My ambition is to become the 1st gynecological oncologist in Hawassa, Southern Ethiopia by next year."
For Dr. Binyam Esayas Abu Ye, one has always been clear: "I want to be a doctor and cure mothers!" The dream to study medicine was born when he was 4 years old. His mother died at an early age. "Women in particular often notice too late that they are gravely ill, and they are often strongly involved in family and work. The barrier to seek medical care is consequently overcome late. Often, unfortunately, too late," said the physician. And Dr. Binyam hopes to change this in the coming years. He studied for six semesters at Arba Minch University in southwestern Ethiopia, and is completing his specialization in gynecology at Addis Ababa University. Currently, Dr. Binyam is working in the Department of Gynecology at the University Hospital in Halle, Germany (UKH).
Dr. Binyam is a slender, medium-sized man, with fashionable black glasses. He has been operating on tumors in gynecology at UKH since mid-April 2023, practicing new surgical techniques. "The experience I'm gaining here is valuable, I'm learning a lot about modern medicine, unfortunately a lot of people in the town don't speak English," he says thoughtfully about his internship, "but it's going wonderfully at the hospital." The beginning of his trip to Halle already confronted him with some adventures: "Applying for a visa is not easy. The government is very worried that doctors won't come back, so they check carefully and also check on entry whether the letters of invitation from the partner university are correct," explains the young resident.
Through the Else Kröner Cancer Center exchange program (EKC) for physicians, he is getting one step closer to his dreams: "This project is contributing to reducing the mortality of cervical cancer and that turns it into my most important dream, which is to help mothers," Dr. Binyam is pleased to say.
Back home in Ethiopia, he was one of the few students allowed to choose oncology with a focus on gynecology from his hometown of Hassawa, 170 km south of the capital Addis Ababa. "I will be the first to be able to diagnose and treat these cancers in women well when I return to my home country," the 31-year-old said. That will be next spring in 2024. His wife and son are already waiting for him. Dr. Binyam will then be the main contact in gynecology for 4 million people at Hassawa University Hospital.
Hiwot Yeshitila 24/7 in mission to fight breast cancer in Ethiopia
Straight to the point: Hiwot Yeshitila - committed to the Else Kröner Cancer Center in Ethiopia as a breast surgeon.
In this interview, Hiwot Yeshitila shares her first experiences and challenges in the Else Kröner Cancer Center in Ethiopia and which challenges she will tackle in the coming years.
Ms. Hiwot Yeshitila, where are you from?
Hiwot Yeshitila: I am From Tikur Anbessa Specialized Hospital, Addis Ababa, Ethiopia.
Where did you study?
I studied both my undergrad and post grad study in Addis Ababa University, College of health science Tikur Anbessa Specialized Hospital.
Breast cancer specialists are very rare in Ethiopia.
How did you get into your job?
There are not too many specialities in our country, especially in the field of surgery. I love surgery and there are a lot of patients who need this service, especially women. I was also inspired by my mentor Dr. Endale, whose work actually changed a lot of womens' life.
Who has influenced you the most in your life?
My parents, especially my father has a big influence in my life.
What was your proudest success in your profession?
Becoming a surgeon who can adress health problem of many women with low scocioeconomic status in my country.
What do you do as a balance to your very demanding work?
I am not actually very good in this area, it's a work on progress, but I try to dedicate one day per week for family time.
Ms. Hiwot Yeshitila, you have been with the Else Kröner Cancer Center in Ethiopia for around 20 months now.
How have you experienced the first period?
It was a new area, with new peeople and new institution. It was an eyeopener for the burden of women oncologic problems of the country, how much we can do. It showed me that the little things we do actually make a difference.
What were your first challenges?
Creating awareness of the population, attracting clients for screening and breast examination, shortage of space and some consumables .
One of your areas of work is breast cancer surgery.
What do you think are the most urgent questions in this field?
1. Creation of propper community awareness.
2. Creating an easily accessable and affordable health care system which works on breast health .
What is your professional vision?
I would like to become an excellent breast and endocrine surgeon who can revolutionize the image of the health system in treating women's cancer.
What would you like to change in the field of health and cancer diagnosis in Ethiopia?
There should be well-trained health personnel (nurses/health officers/general practitioners) for breast cancer in Else Kröner Cancer Center with its individual centers.
Health policy makers should create a faster referral system from the primary health care sector to hospitals with breast cancer care. Education is the key word. We need more breast surgeons who can treat any breast disease.
I wish you all the best for your future work, thank you for the interview
Dr. Antje Henke